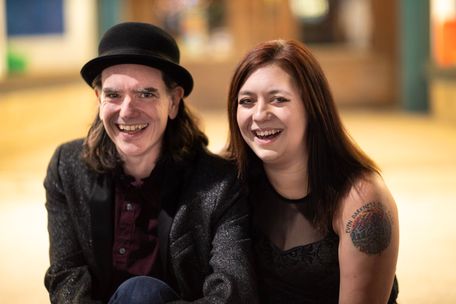 NEW PEOPLE! Welcome to All Request Piano, a place where you can see where Dan Holmes and Heather Ray are playing all-request piano shows.
Q: What is an all-request piano show?
A: It's a light-hearted, sing-along, rock & roll, high-energy show where the crowd determines the playlist! Each song is written on a piece of paper and brought up to the piano by an audience member. The musicians on-stage then play the song while the crowd sings along.
Q: Is it always dueling pianos?
A: Sometimes. Sometimes it's a piano player and a drummer. Sometimes it's two piano players, plus a drummer (three musicians). There are many configurations of performers based on the needs and wants of the event, but they all have the one thing in common; it's all-request, all night long.
Q: Do you play at private parties?
A: Yes! Any kind of event, just about anywhere. Corporate parties, weddings, birthdays in your backyard, bars & clubs, conventions with 5,000 people or a just living room social with 10 people, we've done them all. Contact us for details via the "Contact" page.
So, look around, enjoy yourself, and feel good about finding Dan Holmes and Heather Ray!
Click this image to view and download a brochure, suitable for printing: